My Computer Adoptions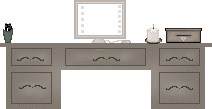 I got my first computer in 1994. It was old and slow, but I didn't care, it got me
started! I had a neighbor who was really good at desktop publishing, and it was
her who really got me interested in graphics. I find myself playing around in
PSP for hours on end trying to learn it only to look at the clock and
realize how many hours have gone by!






No right silent click script by Dynamic Drive
Website designed and maintained by
Alla
ŠAlla Dalton 2003